Top 100 Hard Rock Groups
By James West, The-Rocker.com
Dedicated to Leslie Price and Kiss Fans Everywhere
"You wanted the best- You got the best; The hottest Band In The Land-- KISS!"
​
If you heard these words for the first time back in 1975 like I did then you KNEW the KISS that I knew and grew up loving and rocking out to.
This review is for fans like me; who truly lived the ultimate fan experience from this incredible
band; when "Shock Rock" was just that, and being a part of a true rock and roll movement like the Kiss Army made you feel important, exclusive, and popular. Where were you in 1975? If you weren't born yet then you really don't know Kiss at all...
Rock And Roll Superhero's!
Before Superhero's ruled our lives on the big screen there was such a thing called a "Comic Book" a long time ago in a galaxy far far away. That's what us "un-popular" kids read to escape the horrors of childhood. My personal favorites were Thor, The Hulk, Black Panther, and Daredevil. I also loved the Fantastic Four and how they each had their own superpower to help the team out and make them greater as a whole.
​
I wanted to be popular, I wanted girls to like me, I wanted to hang out with the "cool" guys. I wanted to be fearless... Hell, I just wanted to be someone other than that pimply-faced punk I saw in the
mirror everyday! Yes... I wanted the best and I got the best! I discovered the perfect way to deal with all the pressures of being a loser- I put my faith in Rock and Roll! And since that day Hard Rock and Metal has been both my lifelong friend and obsession. The first three Hard Rock albums I ever bought were Sweet- Give Us A Wink, Queen- A Night At The Opera, and Aerosmith- Toys In The Attic. I knew then that I would never be alone again!
About this time (1975-1976 when I was 13) I also saw an album cover that both scared the hell out of me and also absorbed my mind with infatuation at the same time- KISS DESTROYER!
​
The four horseman of the rock apocalypse were on a mission- To conquer the Hard Rock World, and they weren't taking any prisoners along the way! Theatrical Rock was ripped from the grasp of Alice Cooper and The New York Dolls and given a metal overdose.
KISS took the best of what came before, made it their own and then took it to the extreme!
Now, I love me some Sweet, and Queen was the coolest, and Aerosmith was just downright dangerous at the time, but this band was taking it to a whole other level- Superhero's as Rockstars! Now THAT'S a perfect combination!
​
Just like the Fantastic Four, Kiss were Kickass! Each member had their own superpower which made the group Larger Than Life. Gene was a fire-breathing, blood-spitting, bass playing demon from another world that you definitely didn't want to mess with. Paul was the leader, rhythm guitar riff-master and
star-crossed lover who guided the team on their rocking path to stardom. Peter was the tough as nails alley-cat man drummer who pounced on the skins and melted the kitty's hearts with his soulful ballads. And then there was Ace- whom I could immediately relate to. Space Ace from another planet who was a little shy and hard to understand (Ack!) who harnessed the energy of a thousand solos; often resulting in smoking guitars and shooting rockets!
​
I could definitely tell that this would surely beat the hell out of listening to Abba!
The difference with Kiss versus The Sweet, Queen, and Aerosmith, was that listening to Kiss made you want to BE A ROCK STAR! Destroyer destroyed thoughts of just being a casual listener of Rock; every song you heard from this band transformed you into another dimension where YOU could see yourself being the DEMON, STARCHILD, CATMAN, and SPACEACE! Just like
comic books did when reading them, Kiss did by listening to them!
I Wanna Be a Rock Star Too!!!
One of my dear friends and fellow "Rocker in Arms" buddies Leslie lived down the block from me, and Leslie shared my same excitement and passion for Kiss and other great Hard Rock bands. At the time I had one of those turntable systems that had remove-able speakers on hinges that you could take off and place where you wanted them as long as the cord would allow it.
​
My speakers were almost triangle shaped, so they looked like guitars
when you held them in your hands. Leslie was a "Gene" fan and I was an "Ace" fan, so we would often make costumes out of of cardboard boxes and paint them along with our faces to look like our Rock heroes! I also had one of those gel insert lights that would cast colored gel patterns on the wall. We tore into those and they provided the "Demon Blood" that we would smear on our costumes and faces while jamming to 'Detroit Rock City', 'Shout It Out Loud', and Leslie's personal favorite, 'Sweet Pain'. We were obsessed with our Kiss Rock Gods, and through them we became Rock Gods ourselves. Rockin' out with Leslie to Destroyer were some of the best times of my childhood.
Since we were too young to be allowed to go to a Kiss concert, we became collectors of concert photos from Circus, Hit Parader, and Creem magazines. When 'Rock And Roll Over' and 'Love Gun' came out you got cool-ass stickers and cardboard love guns in the inserts. We were part of Kissteria that swept the nation for the next three years. While I still loved the new releases from Aerosmith, Ted Nugent, and Queen, they were all just appetizers to snack on while we waited for the next offering from Kiss!
Rock And Roll Over.. and Over!
It's hard to believe that only a few months after Destroyer came out another mammoth Kiss album was released. Rock and Roll Over is arguably Kiss' greatest album and my personal favorite as well!
​
The Demon, Starchild, Spaceman, and Catman all were in top form and delivered a masterpiece of Hard Rock and Roll. Despite what you might hear from Paul Stanley from his autobiography of how the band was falling apart during this time period I and the rest of the Kiss Army were blown away by each individual's performances on Rock And
Roll Over! Every song is killer, with my favorites being I Want You, Take Me, and of course Calling Dr. Love. The sound of the album was a lot better sounding than Destroyer; with the guitars brought up in the loud and clear mix. It was more in your face and sounded incredible from the turntable's speakers. By this time I had to ditch the triangle speakers and get some that were the size of Kiss' Marshall stacks! Kiss were larger than life and my speakers had to keep pace!
My Love Gun Movie Dream...
I had moved to a bigger town and started High School and felt even more isolated and lost in fitting in with the popular crowd. I still remember just escaping it all by putting on my headphones and listening to the Love Gun album. I even created my own movie in my mind built around that cool album cover. There I was as Ace, of course, with Gene, Paul and Peter on a distant planet full of beautiful women like on the album cover. It was truly a planet of women and we were their saviors! They were "Almost Human" and I was a "Hooligan" who "Stole Your Love" from "Christine Sixteen"... you get the idea! It's obvious now in hindsight that I just needed a damn girlfriend! Ha! I should have pitched my movie idea to Gene, because it would've been a helluva lot better than Kiss Meets The Phantom! Ha!
Rock And Roll High School
By the time I started High School back in 1979, Kiss had just started their downward spiral in both popularity and quality of albums. Dynasty was still pretty cool, especially the Ace tracks like '2000 Man" and 'Hard Times', but starting with the album Unmasked everything got a little too Pop and Disco for my taste.
My allegiance to the state of Kiss fell apart when Peter and Ace left the band. By that time I had joined the Navy and was getting more into harder acts like Ozzy, Judas Priest, and the Scorpions.
​
I thought it was a big mistake for them to ever take off their makeup. I was actually getting back into them with Vinnie Vincent as the Ankh and Eric Carr as the Fox. Creatures of the Night and Lick It Up were good albums, but Kiss just wasn't the same to me without both Peter and Ace in the group.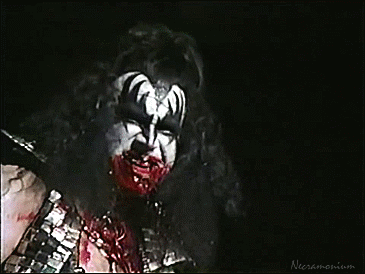 During the next decade Kiss would release a handful of albums without the makeup on. There were some great songs scattered among them, but it took me until Revenge to really give them another serious listen. I was blown away once again, even without Peter and Ace, with Revenge and Carnival of Souls. It's like another shot of Kickass was given to them. Gene especially sounded better than ever. Songs like 'Spit' and 'Thou Shalt Not' are awesome. Even Paul seemed re-energized with songs like 'Take It off' and 'Rain'. Then the unbelieveable happened...
Reunited... And It Felt So Good!
When Kiss reunited for MTV Unplugged and announced a world tour shortly thereafter in 1996 I immediately was transported back 20 years and felt something I hadn't felt with any band since then- Kissteria!
​
I finally got to see all four original members perform in concert in Little Rock, Arkansas on November 9th of that
year. They had already hit over 80 cities that year before hitting the deep South, but to witness the spectacle in person you would think it was the ONLY concert they were performing that year! This rings true even at Kiss concerts today; they play and play and deliver the goods like it's their first show-- Simply Awesome!
Then came Psycho Circus in 1998 and I felt like that 13 year old kid again. I literally could not wait to get my hands on it. I thought it was a great album by the fantastic four... but later found out there wasn't much collaboration on it by all four band members. Plus I still do not understand why they didn't also include Ace's song 'In Your Face' and the great cover of Wendy O' Williams' song 'It's My Life' on the album!
With easy-access internet and 'Tell-All' books by Gene, Paul, Ace and Peter, I soon learned of all the different players who contributed in place of Ace and
Peter on songs, some of which were some of my favorites, like the solo on 'Larger Than Life'- Bob Kulick? Brother of Bruce? What the Hell!!!
​
I know it's not just Kiss, but almost every rock band from the 70's had their share of "Well he didn't show up so we got so and so to do it..." songs that were still credited to the band musician. But it rubs me wrong more with Kiss. You never saw a comic book where the Hulk didn't show up for a fight because he got drunk the night before! As a teenager we believed Kiss was Kiss, in every picture and on every song. As a member of the Kiss Army I see it as dis-honorable, and because of this I don't have them rated higher on my Top Rock Groups rankings.
The Monster Still Lives, Breathes And Rocks!
Regardless of their misleadings, Kiss still holds a special place in my Heart of Rock. For almost 45 years Kiss has continued to Rock and Roll Over and Over Again. The Love Gun never stops shooting, and this Monster of a band keeps Destroying every rock band that still exists from their generation.
Nowadays I don't mind Eric Singer (formerly of Alice Cooper) and Tommy
Thayer (formerly of Black And Blue). Hell they've been with the band longer now than anyone except for the mighty Demon and Starchild himself.
I have been extremely blessed to have seen them multiple times with multiple lineups, but one thing never changes, and that's the band's love for their fans and for a country that allows you to be the Rockstar you want to be. They are America's band, and I'll always Pledge Allegiance To The State of their Rock and Roll!
The Rocker and Rocker Chic's Kiss Wedding!
​
August 3rd, 2012
​
Kiss Hotter Than Hell Chapel, Las Vegas NV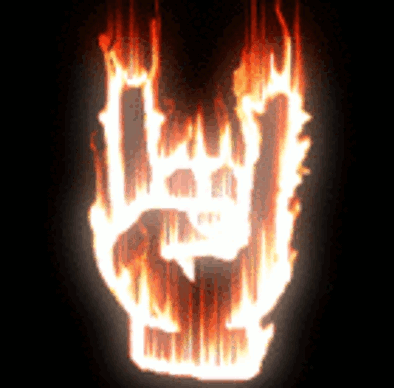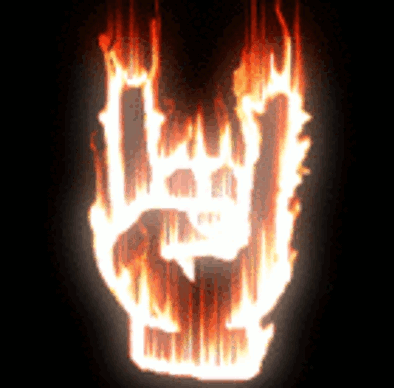 It's hard to believe that it has been almost six sexy sweet years since I became the luckiest Rocker alive to have married his "Love Of A Lifetime" Danette at the Kiss Hotter Than Hell Chapel in Las Vegas!
​
As a testimony to the Hottest Band In The Land and to the Hottest Girl In The World, we came together in holy matrimony to the tunes of "I Was Made For Loving You"!
The Rocker and The Rocker Chic Wedding!
My Rocker Spawn Ashlea and April were my Best Maids, and The Rocker Chic's BFF (Bonjovi's Forever Fan) Sofia was her Maid Of Honor. Minister Gene was on his best behavior and didn't try to steal the bride from me, but he did take great pleasure in showing off his big tongue a bit too much! Ha!
​
Six years later and still going strong, our marriage is just as strong as the bond I have with Kiss after 40 years; and as the Starchild Paul would say in his beautiful song; "It's forever, this time I know and there's no doubt in my mind- It's Forever, until my life is through, girl I'll be loving you forever!"
Kiss - Cabazon, California - October 2016
Photos By the rocker chic!
A couple of years ago the Rocker Chic and I were blessed to have witnessed a Kiss concert in, of all places, a big tent venue at a casino-resort near Palm Springs. I'm not sure who the concert promoter was who pulled this one off, but we just want to say thank you sir for pulling off this incredible psycho circus tent concert for us to enjoy! We were close enough to kiss... KISS!
Kiss - end of the road tour
feb 2019 san diego - anaheim ca
This surely cannot be the End Of The Road for Kiss! Paul, Gene, Ace, Peter, and the rest of the Kiss gang have been a part of my Rock and Roll DNA since I was 13 and witnessed sensory overload by the album Destroyer!
It has really been hard on me to face the reality that this truly could be their last hurrah. I mean, it's happened before, right? I saw the Farewell Tour that soon meant the goodbye for both Peter and Ace, and now Paul and Gene are supposed to ride off into the sunset once this lengthy 3-year goodbye tour is over? I just don't think they (especially Gene) could hang up the costumes!
I keep telling myself that hopefully this means they won't stop making albums, and that they're just going to perform Las Vegas residencies and special occasions. Replacements for the Demon and Starchild? Sorry, but it's not gonna happen!!!